News
[html]<!-- BEGIN TOP SITE LIST PLANET VOTING CODE --></p>
<p><a href="http://paranormalutd.top-site-list.com/vote134.html"> <img src="http://paranormalutd.top-site-list.com/images/voteimage/paranormalutd-2.jpg" border="0" /></a><p><a target="_blank" href="http://www.hauntedengland.co.uk/"><img src="http://www.hauntedengland.co.uk/button.php?u=IOWGH" alt="Haunted England Top 100 Paranormal Websites" border="0" /></a><p><a href="http://paranormal.top-site-list.com/vote64.html"><img src="http://paranormal.top-site-list.com/images/voteimage/paranormal-3.gif" border="0" /></a><span style="font-size: xx-small;">&nbsp;</span></p>
<p>&nbsp;</p>[/html]
MOON PHASE & GEOMAG INFO
Solar X-rays:

Geomag Field:
GHOST CAM EVIDENCE
What's happening here? Well, honestly I can't say...nobody was home at the time. Luckily, Angelkitty was watching the cams and managed to cap the incident! Thanks Angelkitty for watchin my back!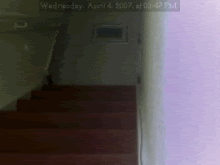 Here is an orb that I caught in flight on the stairs...it's not a bug cuz I checked the stairs right after I saw it on the cam...so who knows? Could this be a paranormal orb? It took me ages to find all three of these consecutive caps in the gallery!! lol...gotta be quick!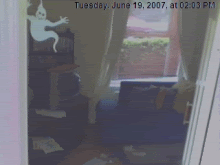 I have caught several of these rod like anomalies on the cams in my home. My first instinct was that they were bugs, but I have yet to prove this to myself, as I always go in search of the bugs, but never find them. Bear in mind that this cam is situated approximately 12 feet away from the window where this thing appears from, so if it is a bug, then its a mighty BIG one!
*Please note that all of these animations have been slowed down to allow the viewer to see whats happening. The original anomalies occurred much more quickly in real time.
To view our comprehensive gallery and our cams, plus our extensive forums....simply join our site by registering above...
Forum
Topics
Posts
Last post

Registration

Membership is granted on administration approval only. Please provide a valid email address or your account will not be approved.

Moderators: mysticmog, Devon, Pattyhap1863, zenobia

Subforum: GhostHouse Privacy Policy

0

0

No posts

Please fill in your PROFILES

Please remember to fill in your profile upon being granted access to the site and cams. Members failing to do so within 48 hours of registration will have their accounts terminated. Please read our site rules before committing to register

Moderators: mysticmog, Devon, Pattyhap1863, zenobia

1

1

England's Most Active Ghost Cams


Mon Apr 20, 2009 5:54 pm

zenobia

Paranormal News

All the latest breaking news in the paranormal world...

Moderators: mysticmog, Devon, Pattyhap1863, zenobia

2

2

Sun Aug 30, 2009 3:01 pm

zenobia

Site Dedication

This site is dedicated to my brother Christian Adams Lucas...1965-1986

Moderators: mysticmog, Devon, Pattyhap1863, zenobia

1

1

Wed Apr 08, 2009 8:36 pm

zenobia
Who was here?

In total there were 8 users online :: 0 registered, 0 hidden, 1 bot and 7 guests
(based on users active today)
Most users ever online was 358 on Fri 17. Dec 2010

Registered users:

Google [Bot]
Statistics
Total posts 831 | Total topics 194 | Total members 23 | Our newest member KeeperOfGhosts
Delete all board cookies | The team
All times are UTC [ DST ]
| | | | | | | | |
| --- | --- | --- | --- | --- | --- | --- | --- |
| | New posts | | | No new posts | | | Forum locked |
Calender
| | | |
| --- | --- | --- |
| | May - 2020 | |